A prime city-owned block on Central Avenue is moving one step closer to redevelopment as two groups have been asked to present their proposals for the site to the city.
Back in January, the City of St. Petersburg issued a request for proposal (RFP) for the purchase and development of the property located at 1300 1st Avenue North in the EDGE District. The property is the site of the former headquarters of the St. Pete Police Department, which moved into a new building across the street earlier this year.
The RFP contained a list of items and uses, both required and preferred, that defined the type of development the city envisions for the site. The ultimate goal of the RFP was to attract proposals that were mixed-use in nature with retail, office, mixed-income housing, civic/park space, and possibly a hotel.

Submissions were due on May 10th and the city received a total of seven proposals, which featured a range of concepts from national developers and local groups. One common denominator across the proposals is the inclusion of ground floor retail and public parking, both of which were high on the city's priority list for the site.

While the city has yet to make a decision on which proposal to move forward with, St. Pete Rising has learned that two of the seven bidders were recently invited to present their proposals to the city.
Last Wednesday, Edge Central Development Partners and Waverly Capital, LLC presented their proposals to city leaders. Coincidentally the presentations took place at the old Police HQ, the site they're seeking to develop, which is currently housing city staff as St. Pete's City Hall undergoes renovations.
Although the city invited only two of the seven bidders to present, that doesn't necessarily mean the other five groups are out of the running. The city may decide to invite some (or all) of those groups to present their proposals at a later date. Also, all submissions are still subject to negotiations, which could lead to features being added or deleted from the proposals.
Here's an overview of the two submissions that were invited to present:
Edge Central Development Partners

This proposal features 77,000 square feet of office space, 20,500 square feet of ground floor retail, 104 workforce apartment units, 40 market-rate condominium units, a 500-car parking garage (300 of which would be public), and a civic plaza.
The group behind the project is 100% local and includes: J Square Developers and DDA Development, both own whom have experience developing in Downtown St. Pete, along with Craig Sher and Will Conroy with Backstreet Capital, LLC, and Tim Clemmons with Place Architecture, among others. They have also committed to developing the project to National Green Building and LEED standards. In their submission they note that a coworking space and a law firm have expressed interest in the office space, although there are no firm commitments.

You can view Edge Central Development Partner's full submission here.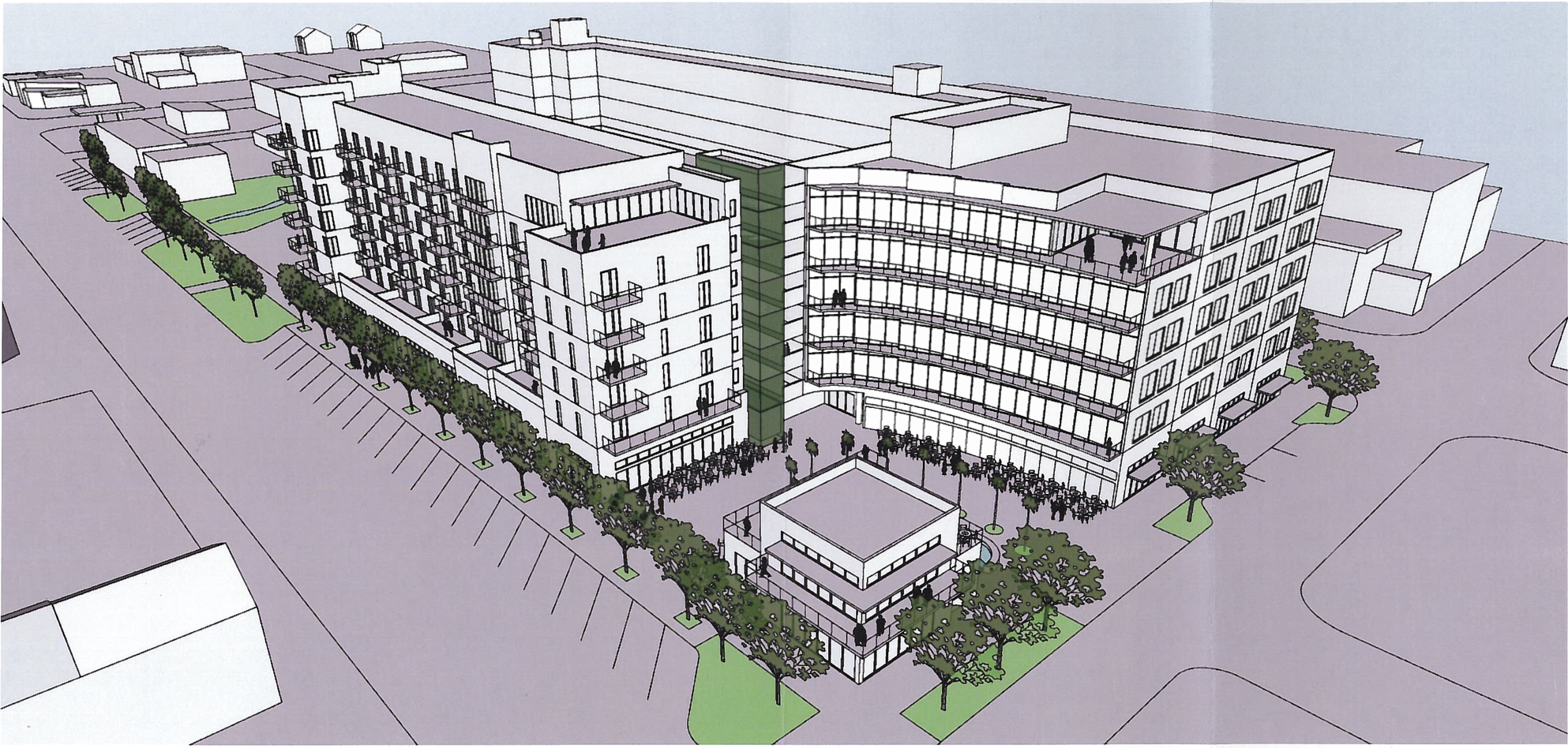 Waverly Capital, LLC

This proposal was submitted by Jugal K. Taneja and Fazal Fazlin, both of whom have backgrounds in bioscience and pharmaceuticals. Their firm, Waverly Capital, LLC is proposing a development that contains office space, totaling between 98,000 and 118,000 square feet. The base would also include 20,000 to 30,000 square feet of retail and restaurant space as well as approximately 700 parking spaces (300 of which would be public).
Most significantly, Waverly has already had high-level discussions with several national and regional companies in the biotech, pharmaceutical, and construction sectors about relocating their headquarters to Downtown St. Pete. One of the companies indicated interest in 40,000 square feet of the building while others have indicated interest in smaller spaces. Waverly anticipates having 50-70% of the building pre-leased before construction based on these conversations. This would be significant for Downtown St. Pete, which has experienced record low vacancy rates for Class A office space in recent years.

You can view Waverly Capital's full submission here.